Testboard Kit

The Testboard kit allows VNWA users to assemble a useful Component jig to quickly assemble a simple RF circuit and evaluate their performance on the VNWA.
This is useful for Experimenters, Students and seasoned RF professionals alike.
The kit comes complete with parts to assemble your own Short Open and Load plug-in (SOL) calibration parts.
For more information download Tom Baier's Slide Presentation which shows how to use freely obtainable RF Modeling tools to design simple circuits and then evaluate their performance on the VNWA using the Testboard.
Cost- effective tool for obtaining repeatable VNWA and optimum operational performance
Experimentation with this Testboard Kit is featured in Chapter 24 of Gerfried Palme's book 'Measurements with the DG8SAQ VNWA 2/3 Vector Network Analyzer'
English Language Version available from our Webshop
German Language Version 'Messen Mit dem Vektor-Netzverk Analysator VNWA 2/3' available from Funkamateur

Full Testboard Kit including Test Components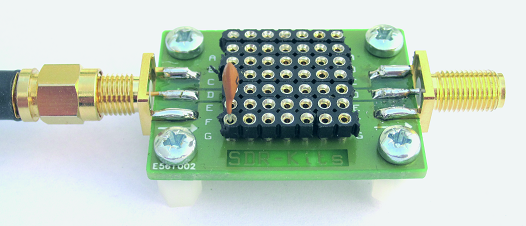 Supplied with PCB, Quality SMA connectors, all SIL connectors and hardware

Includes parts parts for making plug-in Short, Open and 50 Ohm Load (SOL) plug in Calibration kit

Includes 0.1% 25ppm 0805 resistors for 50 Ohm Load

All leaded components are 0.01" diameter lead size to allow for plugging into Testboard Connectors
Also included are components supplied for some of the Workshop Measurements for evaluation of:
• SOL Calibration Measurements
• 3 Pole 5 MHz BPF Filter
• 13 MHz 3 Pole Crystal Filter (5 pcs Crystals donated by OZ7OU - available as long as supplies last)
Download Testboard kit Assembly Instructions
Tom Baier's Radio 2013 workshop Presentation Notes
Kurt Poulsen provided a diagram for planning Circuit Layout on the Testboard
VNWA Testboard Kit - Basic Kit
This Basic kit is supplied without the additional components that enable evaluation of SOL Calibration Measurements, 3 Pole 5 MHz BPF Filter, 13 MHz 3 Pole Crystal Filter.
Please see Testboard Assembly Instructions for clarification of parts supplied in each kit.