BNC-Connector version of the VNWA3SE Automatic 2 Port VNA

The VNWA 3SE BNC connector version is a full 2-Port version of the VNWA 3 and compliments the VNWA 3SE SMA and N-Connector models.
Inclusion of a solid-state 2-Port switch eliminates the need for manual reversal of the Device under Test (DUT) allowing forward and reverse measurements to be taken with a single key click. Fitted with 2 USB Codecs, S11, S21 or S12 and S22 measurements are made in a single sweep.
The 2-Port VNWA 3SE BNC version comes fitted with quality Amphenol BNC connectors and comes in a solid 2mm anodized enclosure but at twice the depth of the existing VNWA enclosure hence offering improved mechanical stability.

Supplied with 3pc 600 MHz BNC Calibration Kit.

VNWA 3SE BNC Model
VNWA 3SE Automatic 2 Port VNA - BNC-Connector Version
In response to Customer requests, this version is fitted with BNC-Connectors for Lab use where BNC connectors are commonly used.

Designed by Thomas Baier DG8SAQ, VNWA Driver and Software now runs on all recent Windows 64 bit and 32 bit Operating Systems, including Windows 11, 10, 8.1 & 8, Windows 7 and Windows Vista.
Dynamic Range >90dB from 1 kHz to 100 MHz, >75dB to 500 MHz and better than 60dB to 1.0 GHz
Sampling time from 0.13ms up to 100ms - max 65000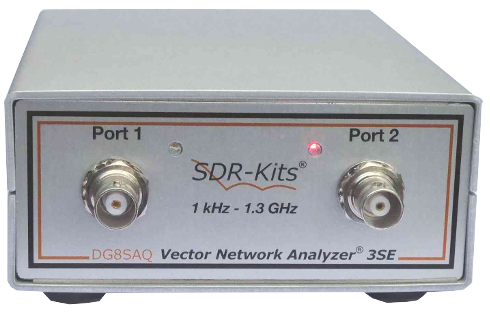 points per sweep - Max sweep duration 30s

VNWA 3SE with BNC-Connectors offering Automatic 2 Port Measurement and external clock connector in anodized enclosure
Dimensions: width 17 cm, depth 11 cm, height 5.3 cm, weight 0.63 Kg
Optional items to add to your order: