N-Connector version of the new VNWA3SE Automatic 2 Port VNA

The VNWA 3SE N connector version is a full 2-Port version of the VNWA 3 and compliments the VNWA 3SE SMA version.
Inclusion of a solid-state 2-Port switch eliminates the need for manual reversal of the Device under Test (DUT) allowing forward and reverse measurements to be taken with a single key click. Fitted with 2 USB Codecs, S11, S21 or S12 and S22 measurements are made in a single sweep.
The 2-Port VNWA3SE N is fitted with quality Amphenol N connectors and comes in a solid 2mm anodized enclosure but at twice the depth of the existing VNWA enclosure hence offering improved mechanical stability.

N Connector Calibration Kits To support accurate calibration of the VNWA3SE N version a range of N-Connector Calibration Kits are available.

Upgrade Kits: VNWA 3E/3EC owners can upgrade their VNWA to the VNWA 3SE 2 Port N or SMA Version using an Upgrade Kit.

VNWA 3SE N Connector
VNWA 3SE Automatic 2 Port VNA - N-Connector Version

In response to Customer requests, this version is fitted with N-Connectors to allow use with medium power applications

Designed by Thomas Baier DG8SAQ, VNWA Driver and Software now runs on all recent Windows 64 bit and 32 bit Operating Systems, including Windows 11, 10, 8.1 & 8, Windows 7 and Windows Vista.
Dynamic Range >90dB from 1 kHz to 100 MHz, >70dB to 500 MHz and better than 50dB to 1.3 GHz
Sampling time from 0.13ms up to 100ms - max 65000 Measurement points per sweep - Max sweep duration 30s

VNWA 3SE with N-Connectors offering Automatic 2 Port Measurement and external clock connector in anodized enclosure - Refurbished as New with full Warranty, fully assembled and tested

Good Quality USB Cable fitted with ferrite


VNWA 3SE "Getting Started Manual


24 Month 'Return to Base' Warranty
Note: Calibration Kit is not included but is a requirement to use this product.
Dimensions: width 17 cm, depth 11 cm, height 5.3 cm, weight 0.63 Kg

VNWA 3SE Automatic 2 Port VNA - N-Connector Version upgrade kit for existing VNWA 3E Analyzers

This upgrade kit is to upgrade/convert an existing fully working VNWA 3E to the new VNWA 3SE Automatic 2 Port N-Connector version.
The upgrade is not difficult and can be done by VNWA 3E owners who accept that two 10mm x 3mm slots will need to be made in the Brass VNWA chassis, either with a small key file or using a sheet nibbler tool.
To see what is required for the upgrade please check out the VNWA3SE 2-Port Upgrade assembly manual before ordering.

The VNWA 3SE upgrade kit comes with a new VNWA enclosure with double the depth compared with the existing VNWA 3EC Enclosure hence offering improved stability for use with N Connector cables

Contents: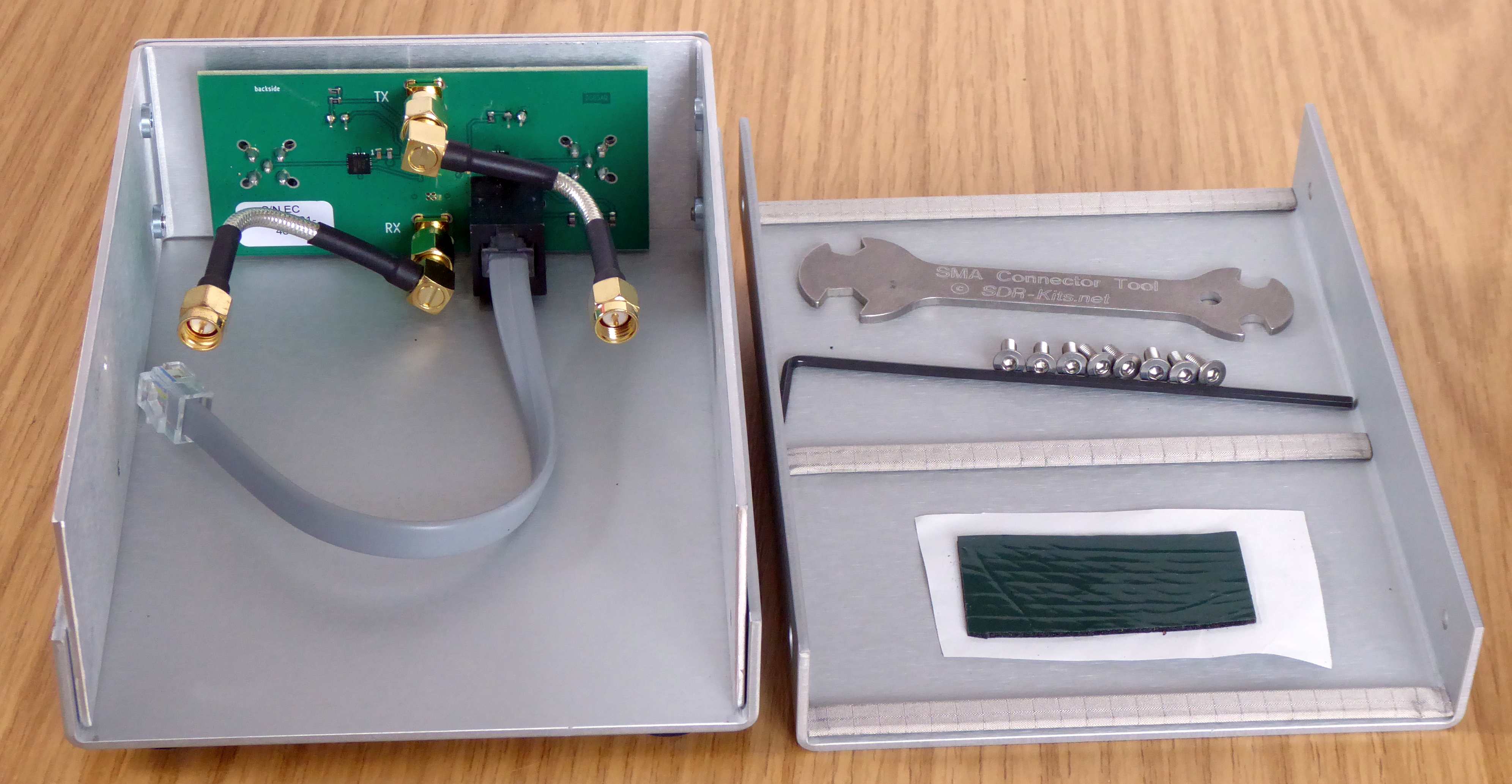 VNWA 3SE upgrade kit fitted with 2port switch with N-Connectors fully tested

2mm hex tool and a SDR-Kits SMA spanner (non-torque model)

24 Month 'Return to Base' Warranty on the VNWA 3SE upgrade kit.

VNWA3SE Upgrade assembly manual with commissioning graph showing typical Dynamic Range of the 2 Port switch used with a typical VNWA 3E used during commissioning prior shipment.

Dimensions: width 17 cm, depth 11 cm, height 5.3 cm, weight 0.75 Kg

Note: To complete the upgrade to VNWA 3SE requires fitting of a fully functioning VNWA 3E, which is NOT supplied in this kit . Also a calibration kit and thru cables are NOT included with this kit.

Optional items to add to your order: