Introducing the DG8SAQ VNWA 3 Low Cost 1.3 GHz Vector Network Analyzer
Covering 1 kHz to 1.3 GHz and powered from a PC USB-bus, the VNWA 3 Series offers a dynamic range of 90dB up to 100 MHz, better than 70dB to 500 Mhz and better than 50dB above 500 MHz. Measures up to 65000 datapoints with sampling time from 0.13 mS to 100mS - maximum sweep duration 30sec.
Designed by Professor Thomas Baier DG8SAQ, the VNWA 3 Series is used by Professionals, Universities, Research Institutes and Radio Amateurs worldwide since its launch in 2009.

VNWA Driver and Software runs on all recent Windows 64 bit and 32 bit Operating Systems, including Windows 11, 10, 8.1 & 8, Windows 7 and Windows Vista.
Software is free to download and updated regularly by the designer.

The DG8SAQ VNWA 3 Series offers: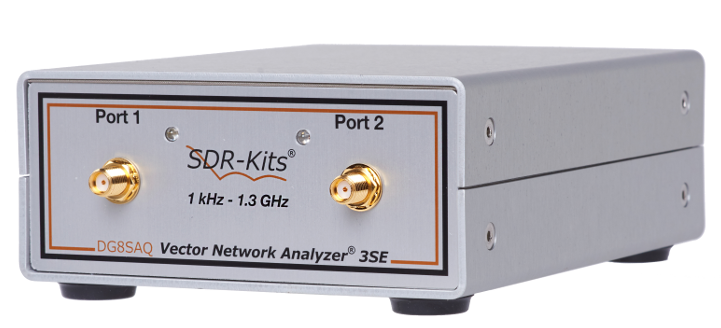 All VNWA hardware on a single Printed Circuit board for maximum reliability

High stability 12 MHz +/- 0.5 ppm Analogue TCXO from which all clock signals are obtained

Redesigned Solid 2mm Anodized enclosure and brass chassis

S-parameter, S11, S12, S21, S22, VSWR, Smith Chart & Component values
Time Domain - Distance to Fault Measurements - Network Matching tool
Supplied fully assembled and tested.
The DG8SAQ Network Analyzer is available as 3 different models - VNWA 3, VNWA 3EC and the new VNWA 3SE - all offering the same accuracy, measurements and range.
VNWA 3 - a great value, entry level device, from £199.00
VNWA 3EC - takes One Port (S11) and Two Port (S12) measurements in one sweep instead of 2 sweeps, and is also fitted with an external clock in/out connector, from £259.00
VNWA 3SE - Inclusion of a solid-state 2-Port switch eliminates the need for manual reversal of the Device under Test (DUT) allowing forward and reverse measurements to be taken with a single key click. Fitted with 2 USB Codecs, S11, S21 or S12 and S22 measurements are made in a single sweep, SMA, N-Connector or BNC Connector Version from £349.00.