VNWA Tools

To ensure consistent measurements the use of appropriate tools for SMA connectors is highly recommended to ensure connectors are tightened to the required torque settings.

For SMA connectors with a brass body the recommended setting is 0.45 Nm = 4 Lb Inch.
Exceeding the above torque may cause damage to the SMA connectors and calibration parts
Proper tightening of SMA connectors requires two tools, a torque wrench for the moving part of the SMA connector and a tool for keeping the static body of the SMA connector in place such that the mating contacts are not rotated when fastening the SMA connector.
Torque Wrench
Cost- effective tool for obtaining repeatable VNWA measurements and optimum operational performance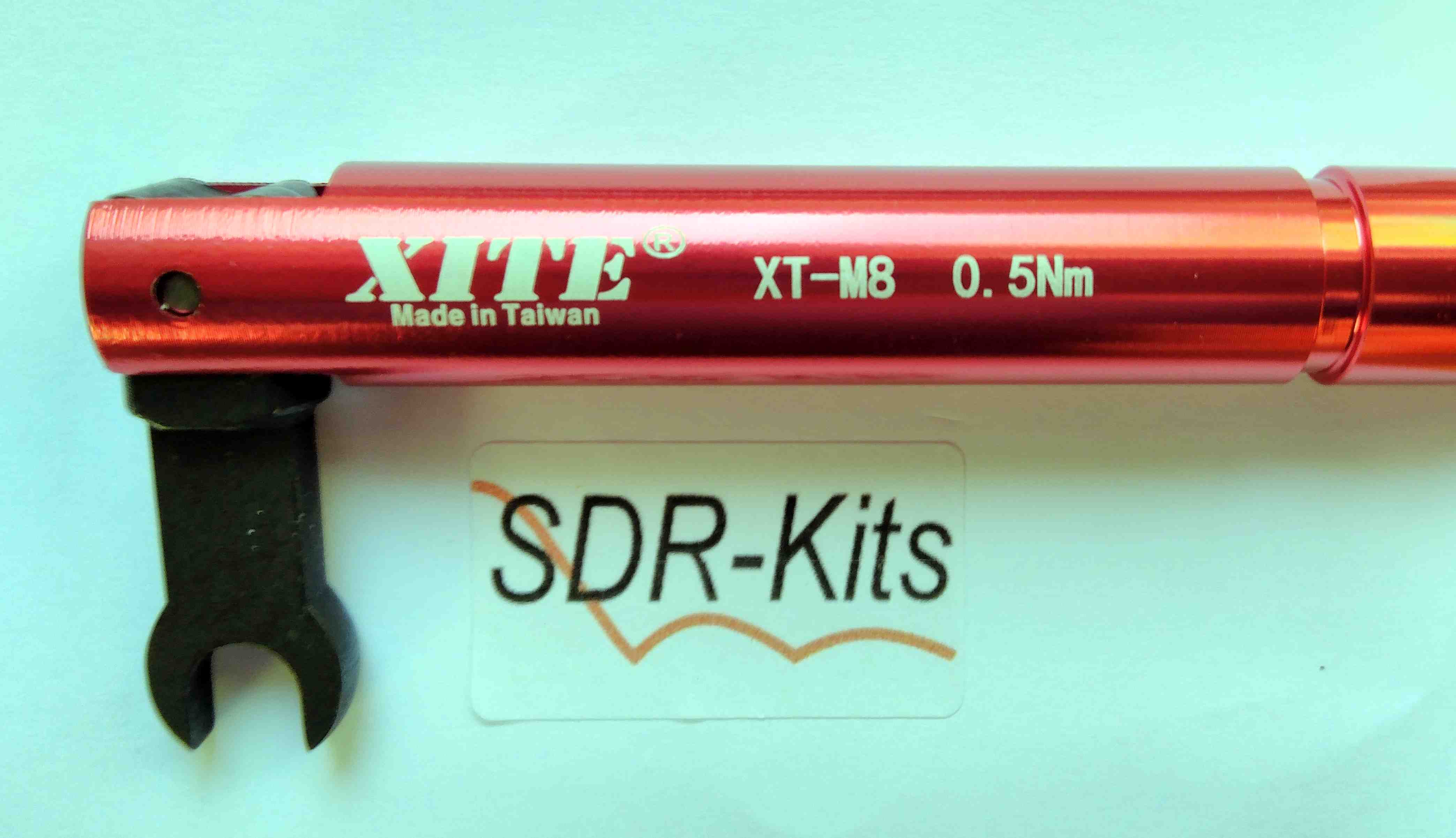 Ensures recommended Torque setting is applied to Brass SMA connectors
Ideally used in conjunction with SMA Connector Flat Spanner
Xite Torque Wrench Model XT-M8 0.5NJm


Fixed Torque setting of 0.5 Nm = 50 N cm = 4.4 Lb inch with 8mm/.315" open spanner


Recommended Torque setting for Brass SMA connector


Comes in plastic tool box for protection and English Instructions


Cost-effective tool for making repeatable measurements
SMA Connector Flat Spanner
Designed and manufacturered by SDR-Kits, this low cost Flat spanner is the one tool for fitting most types of connectors, attenuators and cables.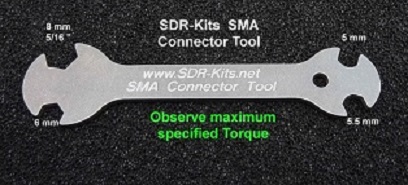 Fits 8mm, 6mm, 5.5mm and 5mm screw nuts used on SMA connectors
Also fits 5/16 Inch nuts (7.9375 mm)
Thickness is 2mm - fits on the body of most SMA Connector parts
Manufactured of stainless steel and engraved "SMA Connector Tool"
Compliments the SMA Torque Wrench by holding the body of an SMA connector static whilst using the SMA Torque Wrench to apply the recommended Torque.
Note on use:
Be careful not to overtighten - observe maximum Torque when using this tool:
0.3 - 0.6 N.m (3 - 5 in.lbf) for brass and 0.8 - 1.1 N.m (7 -10 in.lbf) for stainless steel connectors
The SMA Connector Flat spanner is supplied as a free gift with all orders of DG8SAQ VNWA in Presentation Case