Introducing the DG8SAQ VNWA 3 Low Cost 1.3 GHz Vector Network Analyzer
Covering 1 kHz to 1.3 GHz and powered from a PC USB-bus, the VNWA 3 Series offers a dynamic range of 90dB up to 100 MHz, better than 70dB to 500 Mhz and better than 50dB above 500 MHz. Measures up to 65000 datapoints with sampling time from 0.13 mS to 100mS - maximum sweep duration 30sec.

Designed by Professor Thomas Baier DG8SAQ, the VNWA 3 Series is used by Professionals, Universities, Research Institutes and Radio Amateurs worldwide since its launch in 2009.

VNWA Driver and Software runs on all recent Windows 64 bit and 32 bit Operating Systems, including Windows 11, 10, 8.1 & 8, Windows 7 and Windows Vista. Software is free to download and updated regularly by the designer.

The DG8SAQ VNWA 3 Series offers:
All VNWA hardware on a single Printed Circuit board for maximum reliability

High stability 12 MHz +/- 0.5 ppm Analogue TCXO from which all clock signals are obtained

Redesigned Solid 2mm Anodized enclosure and brass chassis

S-parameter, S11, S12, S21, S22, VSWR, Smith Chart & Component values
Time Domain - Distance to Fault Measurements - Network Matching tool
Supplied fully assembled and tested



The DG8SAQ Network Analyzer is available as 3 different models - VNWA 3, VNWA 3EC and the new VNWA 3SE - all offering the same accuracy, measurements and range.
The VNWA 3 is a great value, entry level device.

The VNWA 3EC is factory fitted with an Expansion board and external clock connection and offers the following additional benefits over the VNWA 3:
Simultaneous S11 and S21 measurements in one Sweep

RJ12 socket to provide external VNWA control and VNWA power connectivity

Reduced Power consumption - DDS switched mode supply

External VNWA 3 Clock connectivity

VNWA Reference Clock output: TCXO 12 MHz*x (where x=2 3 4 5 ...8) stability +/- 0.5 ppm Output 1 kOhm impedance, 150mVpp

External Reference Clock input: Recommended external clock: 36 MHz with a level of between -6dBm...+3dBm / 50 Ohms
New! The VNWA 3SE Automatic 2 Port Model

Due to popular demand, SDR Kits have developed the VNWA 3SE - a fully automatic 2-Port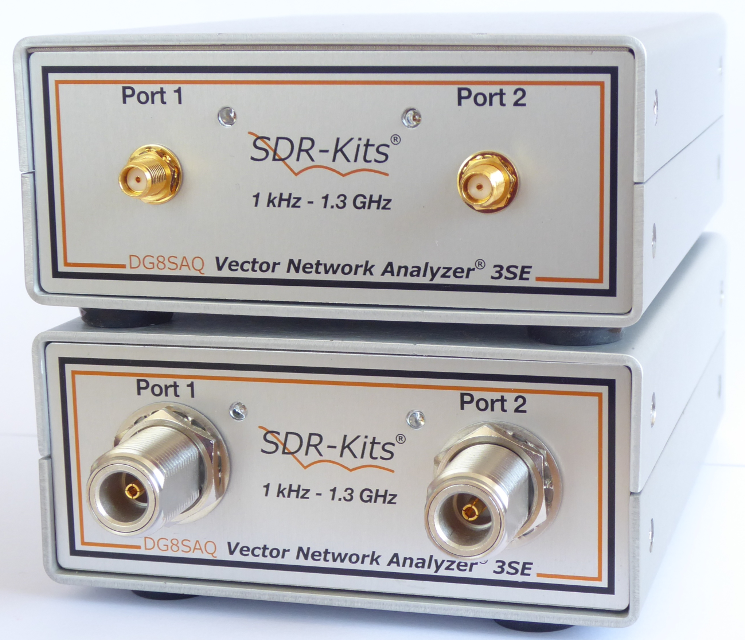 VNA.

Whilst maintaining the dynamic range and specification of the original design, the VNWA 3SE also features a Solid-State 2-Port switch which eliminates the need for manual reversal of Device under Test (DUT), allowing forward and reverse S11, S12, S21 and S22 measurements to be taken with a single key click.

The 2-Port 3SE comes as standard with SMA Connectors but an N-Connector version is also available. Both versions use the same solid 2mm anodized enclosure, but at twice the depth of the existing VNWA enclosure which offers improved stability.

The Magi-Cal® Automatic Calibrator is fully compatible with the new VNWA 3SE SMA Version, and sold as an optional extra.

Retrofit Upgrade Kits for exisiting VNWA 3 or VNWA 3E/3EC owners are also available, keeping the investment in their VNWA up to date.
For more technical details please see Specification for VNWA 3, 3EC and 3SE
The VNWA comes with a VNWA Installer Package to get a new VNWA up and running with minimum of delay.The installer is downloaded from the SDR-Kits website to ensure the latest VNWA software and Helpfile are installed at all times. The installer supports Windows 11, 10, 8.1, 8, 7.
See our range of VNWA models and packages: VNWA 3/3EC and VNWA 3SE 2 Port

A large selection of VNWA Accessories are also available, including the newly introduced Magi-Cal® Automatic SMA Calibrator, a BNC or N-Connector Adaptor Bracket, 'Guided Measurements' Tuition Book, GPS Reference Clocks, Tools, Calibration Kits, Cables and Connectors.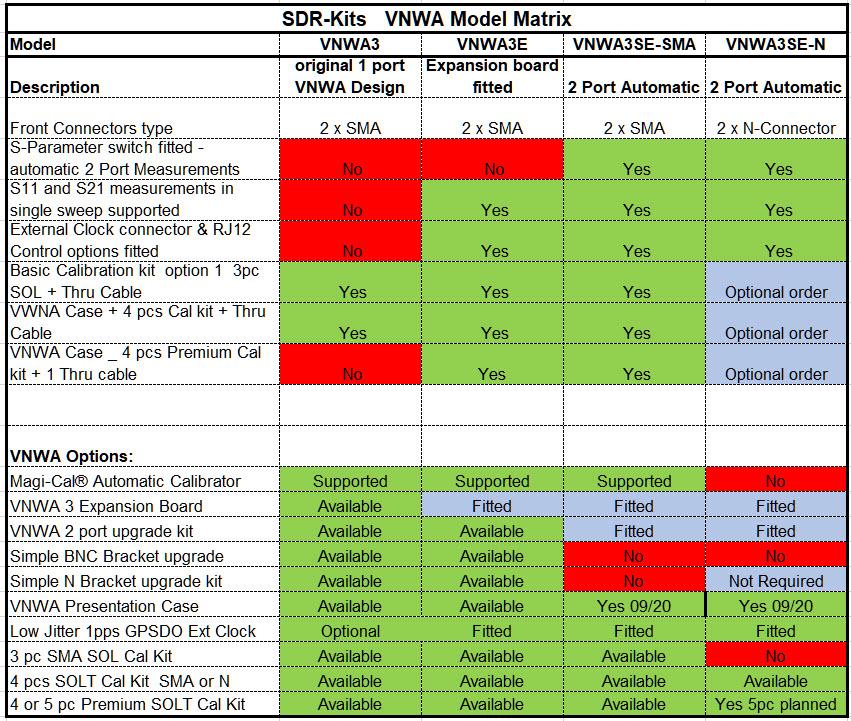 Customer Satisfaction & Support
Customer Satisfaction has been a priority for us since the DG8SAQ VNWA was first launched in 2008
We are keen to ensure that our Customers are able to make an informed choice about their VNWA purchase. Download and try out the DG8SAQ VNWA Software first before ordering.
The VNWA software will start up without the VNWA hardware connected. This allows you to check-out the VNWA features and functionality and assess whether a purchase will meet your expectations.
Every effort is made to make the VNWA easy and intuitive to use for new owners, but be prepared to "invest some time" to get familiar with the many uses and options of the VNWA 3 Series. Take a look at the latest version of the 300+ page VNWA PDF helpfile.
Ongoing Support of all our VNWA Customers
SDR Kits is committed to supporting all our VNWA users, providing technical support, regular software updates and facilitating the DS8SAQ VNWA Forum.
General Software updates for the VNWA 3 Series are made available several times a year. The same Software release is used to add new functionality to the VNWA 3 Series but also to the older VNWA 2.x if this can be supported by the VNWA 2.x hardware.
It is recommended that you become a member of the DG8SAQ VNWA Forum, where VNWA announcements and VNWA user experiences are shared. You will have the benefit of useful information including advice when new software and helpfile updates are available for downloads.
Technical support provided by Tom Baier, VNWA designer and Jan Verduyn, Director of SDR Kits Ltd, by e-mail.
DG8SAQ VNWA sold with a 24 month 'Return to Base' warranty.
SDR Kits Ltd also provide a repairs service for out of warranty units.
Authorized Distributors
Please note that DG8SAQ Vector Network Analyzer® 3 Series are only sold by by SDR-Kits direct, SDR-Kits Ebay Shop, or by SDR Kits' Authorised Distributors listed below
DG8SAQ Vector Network Analyzer® offered by other commercial sources are not manufactured by SDR Kits and are therefore not supported by SDR-Kits or by SDR Kits Authorised Distributors.