SDRplay RSP2 and RSP2pro 1 kHz - 2000 MHz Wideband SDR Receiver
The RSP2 and RSP2pro are enhanced versions of the popular RSP1A, providing three software selectable antenna inputs, and new stability and clocking features ideally suited to industrial, scientific & educational applications.

Used in conjunction with SDRplay's own SDRuno software, the RSP2 and RSP2pro become a high performance SDR platform.
RSP2pro is housed in a rugged metal box for improved RF Screening
Key Features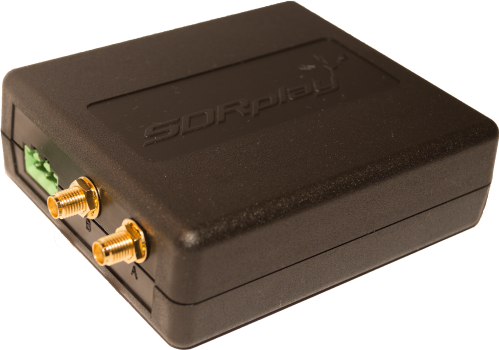 10 built in front-end pre-selection filters, with substantially enhanced selectivity

Supports up to 3 simultaneously connected antennas (2 x 50 Ohms and 1 High Z port for lower frequencies)
External clock input and output for synchronisation purposes, or connection to GPS reference clock
Up to 10 MHz visible bandwidth
Powers over the USB cable with a simple type B socket
High Performance ADC silicon technology


Software selectable AM/FM broadcast band notch filters
Software selectable multi-level Low Noise Preamplifier
Bias-T power supply for powering antenna-mounted LNA
RF screening within a strong plastic case for the standard RSP2
RSP2pro housed in rugged metal case for improved RF screening
Multiplatform driver and API support including Windows, Linux, Mac, Android and Raspberry Pi 2/3
Free Professional Software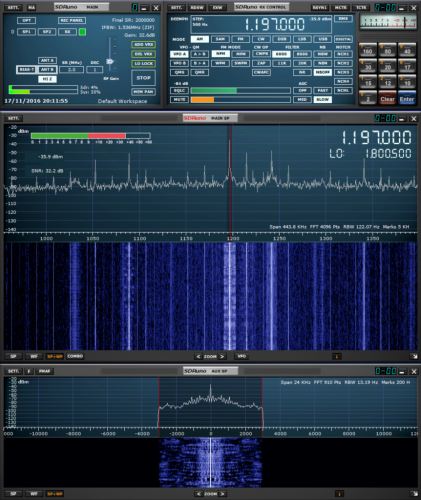 When used together with SDRplay's own SDRuno SDR Software, the RSP2 and RSP2pro become a high performance SDR platform
World Class SDR software for Windows

Up to 16 individual receivers in any 10MHz slice of spectrum using SDRuno
Calibrated S meter and accurate power and SNR measurements with SDRuno
Documented API for new apps development

RSP2 and RSP2pro also compatible with HDSDR, SDR-Console and Cubic SDR software packages
Download SDRplay RSP2 and RS2pro Datasheet
SDRplay RSP2 and RSP2pro available from our Webshop
Package Contents: 1 pcs SDRplay RSP2 or RSP2pro with "Getting Started" information.

Note: The SDRPlay RSP2 and RSP2pro requires a standard USB-A plug to USB-B plug Cable.
This USB Cable is NOT supplied as the majority of SDRplay buyers will already have such a cable available.
RSP2 and RSP2pro available from stock - We ship within 48 hours via Registered Post / Tracked Airmail.
SDR-Kits is an Authorised Distributor for SDRplay Products Worldwide

RSP2 product is sold through SDR-Kits Authorised Reseller for For Japan: ICAS Enterprises www.ICAS.to


SDRplay Accessories