SDRplay RSP1A 1 kHz - 2000 MHz Wideband SDR Receiver
Upgraded powerful wideband full-featured 14-bit SDR which covers the RF Spectrum from 1 kHz to 2 GHz.


●
1kHz–2000 MHz Continuous Coverage

● 14-bit ADC Silicon Technology


● Up to 10 MHz Visible Bandwidth


●
11 High-Selectivity Built-in Front End Preselection Filters

●
Windows Linux
MAC & Raspberry Pi 3


●
Free World-Class SDRuno Software


Building on the success of the popular RSP1, the RSP1A offers a significant number of additional features whilst maintaining exceptional performance and great value for money.
Main additional features of the RSP1A compared to the original RSP1:
ADC resolution increased to 14-bit native for sample rates below 6 MHz, increasing to 16 bits with decimation

Enhanced RF pre-selection (greater filter selectivity plus 4 additional sub-bands compared to the original RSP1) for reduced levels of spurious responses

Improved LNA architecture with variable gain - the RSP1 had just a single gain step

Improved intermodulation performance

Performance extended to cover 1kHz to 2 GHz with a single antenna port

Bias-T facility

Improved frequency stability incorporating a 0.5ppm TCXO (software trimmable to 0.01ppm)

Selectable broadcast AM/FM/DAB notch filters

RF shielding within the robust plastic casing
Free Professional Software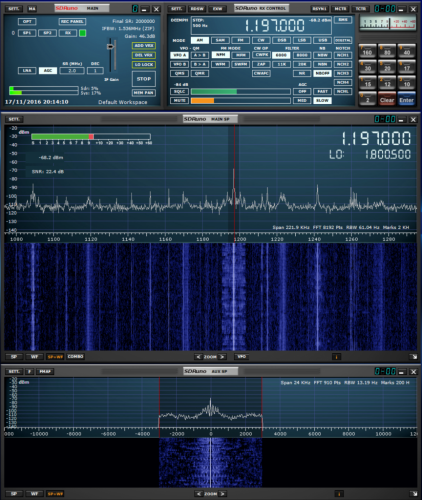 When used together with SDRplay's own SDRuno SDR Software, the RSP1A becomes a high performance SDR platform. Users can enjoy all modes of operation whilst monitoring up to 10 MHz of spectrum in real time.
Highly integrated native support for the RSP1A




Calibrated RF Power Meter with more than 100 dB of usable range




Calibrated S-Meter including support for IARU S-Meter Standard




The ability to save power (dBm) and SNR (dB) measurements over time, to a CSV file for future analysis




The IQ output wave files can be accessed for 3rd party applications
An open API allows developers to create new demodulators or applications around the platform.
SDRuno software allows you to operate from 1 up to 4 independent virtual SDR Receivers within the selected 10MHz bandwidth of the SDRplay hardware.(The actual number of Virtual SDR receivers is limited by the processing power of the PC in use.)
See SDRplay's Youtube demos
New Software in Development: watch video introducing SDRconnect

RSP1A is also compatible with HDSDR, SDR-Console and Cubic SDR software packages

SDRplay provides multiplatform driver and API support which includes Windows, Linux, Mac, Android and Raspberry Pi 3. There is even a downloadable SD card image available for Raspberry Pi3 which includes Cubic SDR.
Download SDRplay RSP1A Datasheet

Typical Receive Applications
● Broadcast and Utility Stations ● All Amateur bands 136 kHz – 23 cm ● VHF & UHF Airband ● ACARS and ADBS Aircraft Tracking
● Beacons-WSPR-Propagation ● VHF Shipping & AIS Ship Tracking ● Panoramic IF Receiver/Adapter ● TV & DAB Broadcast Support
RSP1A is available from our Webshop
Package Contents: 1 pcs SDRplay RSP1A with "Getting Started" information.

Note: The SDRPlay RSP1A requires a standard USB-A plug to USB-B plug Cable.
This USB Cable is NOT supplied with the RSP1A as the majority of SDRPlay buyers will already have such a cable available.
SDR-Kits
is an
Authorised Distributor for SDRplay Products Worldwide
The RSP1A is normally available from stock - we ship within 48 hours via Registered Post / Tracked Airmail.
RSP1A product is sold through SDR-Kits Authorised Reseller for Japan: ICAS Enterprises www.ICAS.to
SDRplay RSP1A Accessories